LinkedIn Writing: LinkedIn and Resume Writer Services
Take a chance to make killer first impression digitally – update and complete your LinkedIn profile. This is a perfect place to market your professional skills, expand business connection and find out about exciting opportunities.
However, it's even more important when you're searching for employment – with a strong online presence, it's easier to gain an interview invitation, as professional network automatically boosts credibility. What is more, it's a frequent occurrence when a candidate is offered a new job by an HR from his network!
Career coaches from best resume writer services insist that no successful job search is possible these days without a correctly developed LinkedIn profile. So, let's get down to business: use the tips below to make your profile stunning!
Choose an appropriate, professionally-looking photo of a good quality for your profile. All surveys support the idea that profiles with images generate more views than those which have no visual content in.
Many people neglect headlines or simply put the name of their recent (or current) position there. Demonstrate your specialty and value proposition targeted to the type of job you are hoping to get. Be specific and put there the information a hiring manager expects to see, and you'll be ahead of the competition.
Your original LinkedIn address is a confusing combination of numbers, but you can change that. It's silly not to take this opportunity – changing your address to "joanntaylor" or "christopherwales-ceo" will make you more memorable. Moreover, you can use this address elsewhere – in your resume, other profiles, and business cards.
Publish posts and visual content
Be active on your page – post recent industry news, share updates which might be interesting for your circle. For instance, you can share the link to resume writer services you used.
Use the summary space wisely
Career-horizons.com recommends writing your summary as 3-5 short paragraphs, one of which should consist of bullets. It's not a CV, so use the first person in this section. Include your key skills and expertise; enrich it with keywords if you want your profile to be visible in search results. Many resume writers service offer LinkedIn completion, so if you are confused, you can always rely on professional assistance.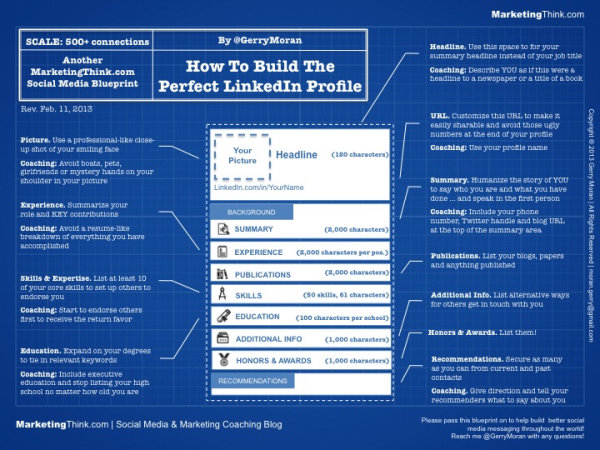 Make sure to fill out ALL profile sections
Most job-seekers restrict their profile completion by adding a photo, summary, work experience and education. It's enough to make a brief impression about you as a specialist (moreover, adding industry generates you 15 times more views and education  - 10 times more views).
Nevertheless, you should get the best out of your profile – add your volunteering work, languages, skills, projects, etc. Even if the section will be as long as two lines, it's much better than nothing.
Get your top skills endorsed
Ask your contacts to endorse your top skills. Employers often search staff via LinkedIn and if you have an imposing skill set with multiple endorsements, it raises your chances for an interview: http://cvresumewritingservices.org/blog/ready-steady-interview-8-tips-from-resume-writers.
Request for recommendations
If your boss and colleagues – both current and former – highly praised your work, don't be shy to ask them for a LinkedIn recommendation. Give them a hint to use figures in their feedback – this will give a clear image of your professional strengths.
As you see, a LinkedIn profile is as important for the job search process as resume is. Our writers team can assist you in this task applying the recent trends for your success. Also, if you need management, manufacturing, sales or IT resume writing services – welcome! We do know how to help you.
Helpful posts:
First Days on a New Job: Secrets from Writer Resume
9 Tips for Flawless Resume Proofreading
6 Clever Ways to Find Job from Resume Service Online
A Killer Resume: 10 Tips for Resume Editing