Pros and Cons of Infographic Resume Online
The Internet has changed the way we share and consume the information, and this affects all spheres of our life. Resume writing doesn't lag behind as well. Only 15 years ago a resume presented a white sheet of paper with black letters on it and its format – as well as the expressions used – was quite traditional. Today, when the applicant is looking to write resume online, this can mean he is browsing fancy designs, online graphics solutions or even considers creating infographic resume.
The infographic resumes are booming, especially among the applicants in creative industries. Some experts state that infographic is the future of resumes, the other insists that you should apply with a traditional resume to get hired: http://cvresumewritingservices.org/blog/get-hired-for-c-level-job-tips-from-executive-resume-writer. So, is creating a visual resume a good idea? Let's consider pros and cons before prepare resume online in form of the infographic.
Resume infographic pros:
Infographic resumes are much more appealing than the traditional ones consisting of the text with bullets only. With the unusual placement of sections and variety of formats and colors used, they inevitably grab the reader's attention.
For many hiring managers they look like something new, so they will definitely devote more time to reading your resume because of its bright format. Despite the fierce competition, you may be the only person who applied with this sort of resume and thus gain a lot of attention.
Infographics are widely shared online and this can help you facilitate your job search. You can post an infographic resume on your LinkedIn profile, share it in social media, or send potential employer the link to the posted infographic.
Well-structured information
While traditional resumes are often overloaded with lots of unnecessary details, infographic focuses on key information only, so the recruiter easily navigates and understands candidate's key competencies.
When you create an infographic, you inform the potential employer that you keep up-to-date with the latest trend and demonstrate that you're the person who is well aware of the new technology.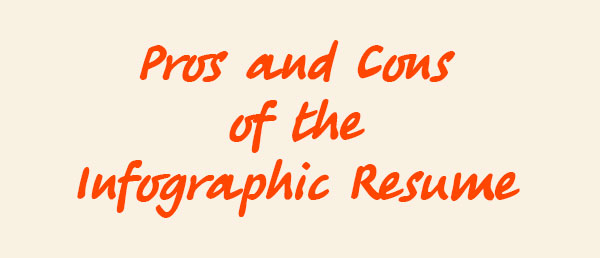 Already tempted to start finding resumes online? There's another side of this trend. Now, let's consider the downsides of creating resume infographic.
Resume infographic cons:
Maybe ATS-unfriendly
Due to unusual format, the ATS may not recognize or reject the infographic resume. In other words, it may be rejected even before the hiring manager sees it.
Not suitable for all jobs
With an infographic resume, you need to consider the industry and the company type. While creative industries are more open for non-standard applications, applying for corporate or government jobs with an infographic isn't a good idea. In conservative industries when you need to follow the rules and regulations bursts of creativity when not expected can kill your chances.
Not all employers are open
A personality of the hiring manager means a lot as well. If this person is young and is used to the variety of graphic content, such application will distinct you; otherwise, you may be rejected only because this isn't a traditional application.
May be seen as non-professional
For some, an infographic or video resume isn't a sterling application so it won't be treated professionally.
As you see, there are multiple aspects of resume infographic you should consider prior to submitting this sort of application. Our advice is: to strengthen your chances, use your infographic resume not as a major application document, but as an enclosure to a traditional resume. You can add the link to your infographic into a resume or simply email it to the employer. And if you still lack a proper classical resume, our resume wizard online will help you with crafting one. Contact us today for a brighter tomorrow!
Find out more about our resume services here:
Tricks Not to Try If You Want Best Online Resume
It's Easy to Make Resume Look Professional
12 Things to Leave Off When You Make Your Resume Online
Resume Writing vs. Resume Rewrite: What is Right for You?
Professional Writer Resume: 6Secrets of Successful IT resume
A simple solution to find ideas for your resume or curriculum vitae is to download free examples from Pinterest or any other website. Yet, if you appreciate super quality and an innovative approach, choose our unique company.
We unite targeted efforts of our designer and writer, using digital technologies and cutting edge software, to provide awesome results according to your timeline. Our own Resume Builder analyzes samples of competitors and even your picture to make an interesting resume for you. We also work with Canva, Illustrator, Graphical Creator, Piktochart, InDesign, Scribus, Magazine Maker, VisualCV, as well as make a presentation in PowerPoint.
We provide any format of the document: PDF, PSD, Word; thus, it will be easy to print it. You can discuss details of your editable resume, the number of its pages and parts; review a sample, scheme or an outline in an interactive mode. We can make several layouts of the document – choose the layout you like most.
A colorful and original resume is a cool decision if you want to become a publisher or choose a career in a marketing sphere. Our team is a generator of a new design for your resume. Our motion graphics help visualize your skills. In comparison with a flat background, three-dimensional images attract more attention. A dull definition of your personality is a killer of your resume. That's why a bold eye catching highlight of your life path should be in its center. The main attributes of the successful modern resume are a proper colour, bright icons, stylized schemes, and sometimes even crazy details.
We appreciate confidence, leaving fillable headers for your name, backgrounds, and other personal data. Freshers, as a rule, have little experience, yet our employees can prompt you some secrets on how to cope with this issue.
Our clients already got jobs at Envato, Accenture, Chapman Guitar, Malaysia Status Company, Adobe Systems, HubSpot, Studio for Virtual Typography, Pink Unicorn Publishing, etc. Follow them.