Truth about C-level Job Search from Executive Resume Writer
During the job search process, an executive faces different challenges than an average job seeker does. Applying general advice for $100K+ jobs can turn out a total disaster. Job search realities for senior executives are totally different; moreover, they are constantly changing in terms of turbulent environment.
Any professional resume service executive knows the peculiarities of landing a top-level job and problems which top managers typically have to resolve to facilitate the application process. No more theory – only applicable advice you can utilize immediately and take advantage of.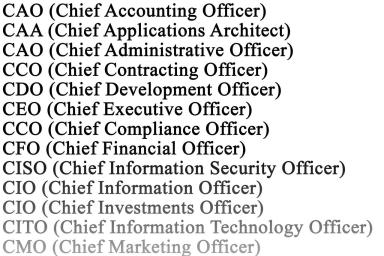 Your experience won't speak for itself
As a resume writer-executive, I often deal with CEOs, CFOs, and COOs who are outstanding achievers. What unites most of them is the common misconception that the company names and percentage of sales growth specified in resumes are enough to get noticed and evoke an irresistible interest of interviewer: http://cvresumewritingservices.org/blog/get-hired-for-c-level-job-tips-from-executive-resume-writer.
No, no, no. Senior management openings assume stronger competition and fewer jobs. You need a strong competitive advantage to survive, and it leads us to the following truth:
Without a clear brand, your resume will be tossed away
Majority of executives don't pay attention to their brand, or even don't realize they have one. Meanwhile, those who developed their brands during climbing up the corporate ladder and have built their names in the industry, usually have no troubles landing a new employment. Moreover, they are getting attractive job offers without any application process!
What is the lesson to learn? Build your brand and achieve recognition in your industry. One of the most effective ways is to…
Build your online presence
How to increase visibility and credibility in the market? The 21st-century answer is "through the social media". The significance of properly built online profiles is often underestimated by executives, but note that around 80% employers seek for their candidates online. Make sure both your professional and personal profiles will be viewed, and if the employer dislikes what he sees, this will disqualify you.
What to start with? Thoroughly complete your LinkedIn profile and broaden the professional network.
Use the help of headhunters
Did you know that numerous openings are closed even before they are posted online? Many top companies prefer not to announce top jobs and hire top-level managers through recruiting agencies. You'll need to pay a fee, but this payoffs as headhunters usually have the access to vacancies an average applicant hasn't.
Job boards are of little use on executive level
Many resume services offer paid posting on job boards and distribution executive resume. While these methods can bring their results to a lower level professional, C-level manager can hardly benefit from this type of application. Statistics say that 20% fewer jobs are obtained in this way, so focus on the job search strategies mentioned above.
And last, but not least…
Executives are not well-versed in a job search
Judging from my own experience, most executives are excellent when it's about their daily jobs, but totally confused when they need to find one. The realities of the market are such that no matter how perfect you are as it's not your professional competence that ensures you a new job. It's the ability to compose your resume as a marketing document and to act in a right way.
Our resume service provides help on executive level at quite an affordable fee. Contact us for a free resume critique or order a brand new career package to meet your most ambitious goals.
Useful information for job-seekers:
Tricks Not to Try If You Want Best Online Resume
Clean It Up: Signs You Need to Edit Resume Online
Common Problems You Face Creating an Online Resume
Can a Resume From Cheap Resume Writing Service Pass ATS?